Italy, a country of entrepreneurs, not innovators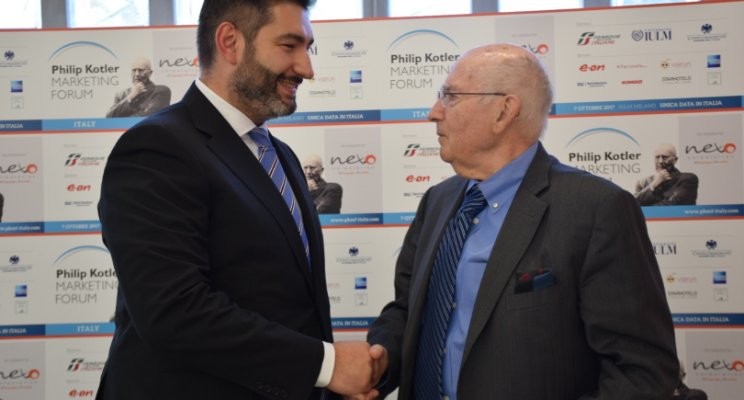 In order to understand marketing, you also need to know about innovation and creativity.
The new version of the Visual Communication Planner is out, get it for free!
Philip Kotler, the father of marketing, was at IULM University in Milan last Saturday for the Philip Kotler Marketing Forum 2017. It was the last stop on his Italian tour which was brilliantly managed by Nexo Corporation (link).
As an indication of how much Kotler is still a central figure in the world of marketing, Luca Pellegrini, Vice President of the Faculty of Communication and professor of Marketing at IULM, introduced him saying "I feel like a parish priest hosting the Pope".
In his first speech, Kotler spoke about ideas from marketing to politics and about how his studies were initially focused on economics.
"Marketing is the real economics".
It's amazing how an 86-year-old man, in absolutely great shape, can still relate so easily with
current topics, which in our field range from marketing to communications and digital innovation, that are changing so fast that even younger people in the field, can barely keep up.
"In order to understand marketing, you also need to know about innovation and creativity".
Talking about innovation, Kotler mentioned Elon Musk, with Tesla and SpaceX, and James Dyson, with his household appliances company of the same name.
"The US and UK have their own innovators" he said. "Italy, on the other hand, doesn't have any key figures in this field, someone like Leonardo Da Vinci". Continuing, he noted that "Italy is a very creative country but it needs to evolve from a nation of entrepreneurs into a nation of innovators".
On this point, I respectfully disagreed with Professor Kotler, during our chat after the event.
"In Italy" I said "no one is trying to colonize Mars – and I'd say one Elon Musk is enough for everyone" – Kotler laughed, "but we have a network of small and medium-sized enterprises that have been innovating for centuries. Perhaps only small changes, which can then be applied to complex projects, such as in the aerospace industry, which is very important to our country."
In this article (in Italian), I'm discussing Export 4.0 with Philip Kotler.
"The role of marketing managers today is to drive company growth".
What Italian companies are probably struggling with is communicating their innovation. In a global market where everyone is competing against everyone, it is essential to use and exploit Web Marketing and all available channels the Internet provides, to show added value and highlight innovation in Italian companies.
Photo credit: Social Reporters (@soc_rep)
---
Why should I buy your product? Here the analogue tool to help entrepreneurs, managers, consultants and freelancers to answer that question!
differentiation in marketing, my new podcast! listen on itunes.